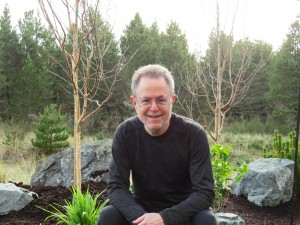 Photo credit: Beverly Hallberg
Floyd Skloot began publishing poetry in 1970, fiction in 1975, and essays in 1990. His work has appeared in major literary journals in the US and internationally and his books have been included in many high school and college curricula. In May, 2006 he received an honorary Doctor of Humane Letters degree from Franklin & Marshall College, his alma mater.
His works include Approaching Winter (Louisiana State University Press, 2015), Revertigo: An Off-Kilter Memoir (University of Wisconsin Press, 2014), The Wink of the Zenith: The Shaping of a Writer's Life (University of Nebraska Press, 2008), A World of Light (University of Nebraska Press, 2005), In the Shadow of Memory (University of Nebraska Press, 2003), and Cream of Kohlrabi, Short Stories (Tupelo Press, 2011).
With his daughter Rebecca Skloot, he co-edited The Best American Science Writing 2011 (Ecco, 2011).
An Oregonian since 1984, Floyd moved from Portland to rural Amity when he married Beverly Hallberg in 1993. They lived in a cedar yurt in the middle of twenty acres of woods for 13 years before moving back to Portland.
We talked about his most recent book, The Phantom of Thomas Hardy (University of Wisconsin Press, 2016).
EB: How did you first get introduced to—and hooked on–Thomas Hardy?
FS: In 1968-69, as a college senior, I was led to Thomas Hardy's novels by a teacher named Robert Russell who had become a beloved mentor, even a second father to me. "I have a feeling for Hardy," he told me as we discussed possible topics for my honors thesis, "and I think you might too." He was right, and the ways Hardy and Russell and I are tied together across the ensuing 48 years is an essential strand of my novel.
EB: This book started out as a vacation to visit gardens and writers' homes in England a few years ago. What happened?
FS: Nothing unusual. My wife Beverly and I had included a two-night stay in Dorset as the final stop in our travels, an opportunity for me to pay homage to Hardy and to Russell, who had died at 86 just as we began planning our trip. While in Dorset visiting Hardy's birthplace, home, grave, and various landmarks, I had no idea that I'd end up writing a book about it. We met no one connected to Hardy, spoke to no one about him. The visit was moving to me, and seemed like a time of closure in my relationships with Hardy and with Russell. Only once, in downtown Dorchester at the start of our Hardy wanderings, did I feel even the slightest sense of the writer's presence, accompanied by a passing thought that it would have been sweet to somehow be able to call Russell from where I stood at #10 South Street, beside the heavy wooden door of a Barclays Bank that bore a round blue plaque saying "This house is reputed to have been lived in by the MAYOR OF CASTERBRIDGE in THOMAS HARDY'S story of that name written in 1885." I felt that Russell would have gotten as big a kick as I did at the thought of an actual building being proclaimed as the home of a fictional character, making it a kind of gateway for our visit. And feeling that way led me to realize that my grief over his death was a big part of this journey. Only later, after we'd gotten home to Portland and I found myself drawn to re-reading various Hardy biographies, did I begin to see that building as a mystical spot linking Hardy's real and imagined worlds, and to feel it beckoning me.
EB: You mention that Hardy ghostwrote his own biography, published under his wife's name. Is your fictionalized memoir in a way a response to that?
FS: Yes. Hardy used the memoir form to concoct a self-ghostwritten biography designed to hide many of the deepest truths about himself , to present a dissembled or fictionalized self. In The Phantom of Thomas Hardy I used the memoir form to create a fiction meant to reveal the deepest truths about myself. I believed that, as with the four memoirs I previously published, I was on an essential journey of discovery and had to see and present the fullest truth or else I myself would be transformed into a lie. I didn't want that to happen. Hardy did.
EB: The uncovering of memory—yours and Hardy's—raised for me the question of what memories are at all, and the fuzzy border between memoir and biography and fiction. How do you see that literary landscape?
FS: I have always believed that when I wrote memoir, I was making a pact with the reader that said I would not make anything up. Everything in my memoirs would be the fullest truth I was capable of finding. That's not what's going on in fiction, even in fiction that presents itself in the form of memoir.
EB: I was struck by the way in which thinking about someone else's life, makes us think about our own, and how you managed to make your life and Hardy's illuminate one another. As you combined the two biographies, did you worry that you would trip over one another? Did it take a while to get it just so?
FS: No, I never felt that either Hardy or I would be lost in each other. He was and remains very Other. What did happen, after re-reading the eight Hardy biographies and various studies, some of the novels yet again and many of the poems, and after reading the absurd accounts of Hardy's presumed secret love life, after going over my travel notes and photos and the materials gathered during our time in Dorset, I found myself feeling as though I understood Hardy more clearly. Understood where he was in terms of love and in terms of his writing about it. Began to see him as a character, as a person rather than as an iconic literary figure or as the clichéd doom-and-gloom-master.
EB: There is quite a bit of research in the book, along with the fiction. What did you learn that you didn't know before?
FS: It was less a matter of learning things I hadn't known before than a matter of coming to a fresher understanding. A matter of emphasis.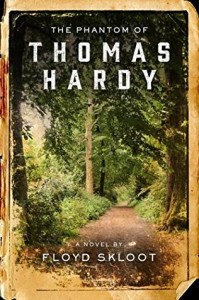 EB: I'm curious too about the cover and title, which has an interesting artistic effect giving the impression of fraying edges. How was that chosen?
FS: The photo was taken by Beverly as we walked through the woods leading to Hardy's birth home, the place where he grew up and where he wrote his first four novels, backed up to the landscape that dominated his imagination for life. So the reader enters the book at ground-zero, where Hardy entered the world. The cover design, including the fraying edges, was done by the marvelous design team at the U. of Wisconsin Press. It absolutely floored me–a perfect presentation, I believe. And, as a reader will discover, in absolute harmony with the plot of the novel.
EB: The title also struck me. Phantom seems like the right choice, as opposed to ghost. It presents a sense of something perhaps not really there as opposed to something haunting you. As a poet, did you spend much time thinking about that or settle right away on The Phantom of Thomas Hardy.
FS:The Phantom of Thomas Hardy was there as the book's title from the get-go. Was the working title all the way through composition and three rounds of revision. At the suggestion of a reader concerned that people might not know or like Hardy, or might think it a scholarly book, I tried on an alternative title but didn't feel comfortable with anything other than The Phantom of Thomas Hardy. I think that title refers not only to the presence of Hardy in Floyd's story–a phantom perhaps of Floyd's neurologically compromised thought process–but also to the various phantoms connected to Hardy himself. As one of the epigraphs–a quote from a Hardy love poem–says, "That her fond phantom lingers there/Is known only to me."
EB: You've written now twenty books and move among poetry, essays, fiction, and memoir. Do you have a favorite form of expression? How do you decide the right genre for a particular topic? It does it decide for you?
FS: I don't have a favorite genre to work in. But I think of myself as a poet first–that was how I began as a writer in the mid-1960s, and I feel that my prose work is informed by my poetry in terms of its compression, its language, its use of imagery. Eventually, my work in essays/memoir/fiction came to inform the poetry in terms of its use of scene and narrative, of character.
EB: Thanks for talking with us.

About Ed Battistella
Edwin Battistella's latest book
Sorry About That: The Language of Public Apology
was released by Oxford University Press in June of 2014.
View all posts by Ed Battistella →
This entry was posted in Ideas and Opinions, Interviews. Bookmark the permalink.
Floyd Skloot's most recent books are the poet­ry col­lec­tion The Snow's Music (LSU Press, 2008), the mem­oir The Wink of the Zenith: The Shaping of a Writer's Life (University of Nebraska Press, 2008) and the short sto­ry col­lec­tion Cream of Kohlrabi (Tupelo Press, 2011). His work has won three Pushcart Prizes, a PENUSA Literary Award, two Pacific NW Book Awards, and been reprint­ed twice each in The Best American Essays, Best American Science Writing, Best Spiritual Writing, and Best Food Writing antholo­gies. With his daugh­ter Rebecca Skloot, he co-edit­ed The Best American Science Writing 2011.
Approaching Winter
Late after­noons when the sun slips behind
the hills I like to sit by my win­dow
fac­ing east and watch shad­ows cap­ture
the riv­er. Cormorants skim the sur­face
as though prey­ing on the edge of light
and yel­low tug­boats nudge grav­el barges
into the spread­ing dark. Once I saw a siege
of herons packed onto the trunk of a young
ash tree swirling in cur­rent after a storm.
Now a kayak glid­ing down­stream van­ish­es
as it fol­lows the bank's curve below me.
In a few months I'll be six­ty-five.
Lately, at this time of day, I'm not
always sure where the bor­ders of sleep
might be. Memory ebbs and floods as I try
not to doze. My infant daughter's voice
is some­where with­in the calls of cir­cling
eagles though she is two thou­sand miles
away, a grown woman at work on a book
in her own attic aerie. My father smiles
and dives into a pool where he is about
to die, but sur­faces in front of me here,
play­ful as an otter in these waters.
My wife stands near me at her easel
break­ing the riv­er into bold vec­tors
of col­or. Her sweet alto ris­es
with the tune flow­ing into her ears.
As I stare, a shift in wind trans­forms
the midriv­er pat­tern into prairie
grass, into ice los­ing hold of itself,
then into Hemingway on a pad­dle­board
wav­ing at me. He wants me to move,
I think, wants to lure me out of the house
and onto the fish­ing boat he must com­mand,
anchored near the pil­ings where a dock
used to be. Across the riv­er, at the tip
of Ross Island where cot­ton­woods are still
hold­ing their leaves, an over­turned stump
can only be Gertrude Stein sig­nal­ing
with a flut­ter of arms that she expects
to join us. We'll need to avoid Moses
in his cra­dle now drift­ing close to shore
dis­guised as the bole of a white oak.
The room has grown cold. When my wife lights
the fire behind me, the win­dow fills
with its flick­er­ing glow. It's a kind of smile
that eas­es me from the chair, and she's there
with me, both ready for the night to come.
A Farmhouse in Las Alpujarras
My wife took pho­tos as I drove nar­row
switch­back roads up the south­ern slopes,
try­ing to ignore the sheer edge as I turned
in and out of blind­ing sun. On straight­aways
we could see white­washed hous­es shim­mer­ing
in vil­lages scat­tered down to the val­ley floor.
The crag­gy land­scape was slashed by gorges,
dot­ted with olive groves. Lemon, orange,
fig, and almond orchards fol­lowed a loose
trac­ery of path­ways wind­ing through scrub.
Clouds snagged on peaks and sagged
onto the ridge where we'd been head­ing
since noon. Just beyond Lanjarón a sharp
curve seemed to sweep us into the whirling
arms of three wind­mills on a hill's crease,
light sparkling off giant blades. Further up,
as an edge of mist began to set­tle, we passed
the wind­mills again, this time far enough away
to see them spread across a seam like a dance
ensem­ble spin­ning in uni­son. At Pampaneira
rain engulfed us, then the paved road end­ed
in a for­est trail. A half-mile ahead, the stone
farm­house we'd rent­ed was hid­den from view.
Dream of a Childhood
Childhood then was a raft drift­ing across
the Pacific. It was some­times a shiny yel­low
Geiger counter and some­times the polio
vac­cine at last, which meant you could swim
again in pub­lic pools. Childhood was a fat
stack of green stamp books on a clover­leaf
table in the foy­er. It was coon­skin caps
on boys from Brooklyn, then the end of Wait
Till Next Year. All you had to do was dream.
Childhood was wak­ing to "Yakety Yak"
on the radio and mov­ing so fast no one
heard it but you. Childhood was don't turn
on the lights, was tip-toe around the kitchen
so your moth­er could con­tin­ue to sleep,
a week's worth of hard-boiled eggs peeled
and wait­ing for you in the refrig­er­a­tor.
Childhood was your mother's dream of no
mess, no trace, no morn­ings to endure.
Childhood was grade school beside a Nike
mis­sile base on the bay side of a bar­ri­er
island. It was duck and cov­er drills in home
room. Teachers had ham radios and decals
from all forty-eight states, for­eign coins
in a plate on the desk. One called you dream
boat when you gazed out the win­ter win­dow
and began to doze. Teachers ate lunch­es
in a secret room stacked with Tupperware
and recalled hon­ey­moons danc­ing in Cuba.
Brothers drove Tango Red Chryslers
to land's-end and back, over and over.
You dreamed yours would be Parisian Blue
and go twice as fast as his. Sisters had packs
of Old Gold cig­a­rettes you saw danc­ing in ads
on tele­vi­sion. Friends' moth­ers wore frilled
aprons. They car­ried plat­ters of stand­ing
rib roast, fixed mold­ed domes of lemon Jell-o
mixed with toma­to sauce and topped by loops
of may­on­naise. Fathers rose in the dark
and van­ished till the dark returned them
ready for sleep, ready for their own dream­ing.
In 1988, Floyd Skloot became dis­abled by viral-born brain dam­age, impact­ing the writer's most basic of dai­ly activ­i­ties, severe mem­o­ry impair­ment such as con­nect­ing names to faces, fol­low­ing direc­tions, and phys­i­cal bal­ance. Essays may take up to two years to ful­ly com­plete and are done so in pieces or incom­plete seg­ments over time. Nonetheless, the com­ple­tion of a poem, essay, or a piece of fic­tion leaves Skloot feel­ing as though he has over­come the offense (brain dam­age) that he has described as the means to silence his "abil­i­ty to con­cen­trate and remem­ber, to spell or con­cep­tu­al­ize, to express myself, to think."
Blip: You've men­tioned when describ­ing access to cre­ativ­i­ty that the rela­tion­ship to spon­tane­ity must con­nect with qui­et, slow con­cen­tra­tion for you. That, out of func­tion­al neces­si­ty .… In your writ­ing life: can you tell us in specifics what that means in terms of envi­ron­ment and con­di­tions? For exam­ple, what is the best envi­ron­ment for you to write in?
Skloot: I try to shape my work­ing envi­ron­ment so that it has as few poten­tial dis­trac­tions as pos­si­ble. No music, for instance. Very lit­tle social life or activ­i­ty out­side our home. The phone sel­dom rings. The room in which I work now is on the 6th floor of a high-rise, with large win­dows that over­look a riv­er. There's enough nat­ur­al light, even on over­cast days, so that I don't turn on any arti­fi­cial light, keep­ing the space as mel­low as I can. My wife and I live qui­et­ly here–she's usu­al­ly paint­ing or weav­ing or work­ing on tapes­try or at her com­put­er in the same morn­ing hours when I'm at my writ­ing desk, so there's sel­dom dis­trac­tion with­in our envi­ron­ment. I've turned my desk and com­put­er table so they're side­ways to the win­dows, less­en­ing the like­li­hood that move­ment or action on the riv­er will dis­tract me, though I can turn to gaze at the water if I wish. I try to make it seem like we're still liv­ing in the mid­dle of 20 acres of woods in rur­al west­ern Oregon, iso­lat­ed and qui­et, as we did for 14 years.
Blip: Do you have a dai­ly writ­ing sched­ule, and how strict /rigid is this is for you?
Skloot: My best time is in the morn­ing, so that's when I'm at my desk. I'm there every day, and on good days can work for two or even three hours. I take breaks, for rest and to avoid get­ting stiff. In the after­noon, if I can, I might do some cor­re­spon­dence or writ­ing-relat­ed busi­ness, but most­ly I read. And I keep notebooks/pens every­where, so that I can jot down ideas or images or phras­es as they occur and before I for­get them. So in a real sense I'm always writ­ing, just not in the con­ven­tion­al sense for more than a cou­ple of morn­ing hours.
Blip: Anything about rou­tine, how rou­tine can help you to write if it does…?
Skloot: I know that each writer is dif­fer­ent with regard to what works, or to what best suits their ways of writ­ing. I'm a per­son very much drawn to rou­tine, to struc­ture. Always have been, even before I got sick in 1988, but even more­so in the after­math of my ill­ness and in light of the neu­ro­log­i­cal dam­age that affects all parts of my life. I need rou­tine and struc­ture even more now. It's no coin­ci­dence, I'm sure, that my work grav­i­tates toward for­mal struc­ture. So much of my expe­ri­ence is frag­ment­ed and elu­sive, inco­her­ent.
Blip: Regarding mem­o­ry and poet­ry: when work­ing with mem­o­ry, which I real­ize for you is a dif­fer­ent process and a some­times impos­si­ble one… when includ­ing details of times past in poems par­tic­u­lar­ly, how impor­tant is the actu­al or accu­rate?
Skloot: When writ­ing my mem­oirs or essays, accu­ra­cy of detail is essen­tial. The com­pact I make with the reader–that if it's non­fic­tion, it's true to the fullest extent I can make it, noth­ing made up, noth­ing fudged–feels sacred to me. Poetry is anoth­er mat­ter. As is fic­tion. Which is one rea­son why I work in the dif­fer­ent gen­res, and believe ful­ly in the dis­tinc­tion between cre­ative non­fic­tion and fic­tion or poet­ry when it comes to fact. That said, much of the remem­bered detail in my poet­ry is actual/accurate/true, because it seems that this mate­r­i­al is already bet­ter than I could make it by lying.
Blip: Please talk about the use of mem­o­ry and sym­bol­ism in your work.
Skloot: The mem­o­ry of emo­tion­al expe­ri­ence is deeply impor­tant. I don't wor­ry too much about sym­bol, trust­ing to the mate­r­i­al to car­ry its var­i­ous kinds of weight. Some events res­onate on all lev­els, of course. When your moth­er locks you inside your wood­en toy­chest, that is a true event that also has enor­mous emo­tion­al pow­er in mem­o­ry and also obvi­ous sym­bol­ic mean­ing.
Blip: In your writ­ing, if you are seek­ing to rep­re­sent some­thing from your past, do you reach for accu­ra­cy?
Skloot: Yes, as not­ed above. And I spend enor­mous amounts of time and ener­gy research­ing, ver­i­fy­ing, deep­en­ing. There's an essay called "The Voice of the Past" in my most recent mem­oir, The Wink of the Zenith: The Shaping of a Writer's Life, which deals with the way–without even seek­ing it–the past keeps reach­ing out to offer its own ver­i­fi­ca­tions. And a recent essay, "The Famous Recipe," deals with what hap­pened when I set out to fact-check the mem­o­ry that my moth­er nev­er ever cooked.
Blip: I find myself remem­ber­ing child­hood moments with inher­ent dis­tor­tion of events which were trau­mat­ic or became sad, lat­er… As every­thing we describe as writ­ers involves sub­jec­tiv­i­ty, how impor­tant to you as an artist is the "real"?
Skloot: It's essen­tial, par­tic­u­lar­ly as I've said in my cre­ative non­fic­tion work–memoir, essay, sci­ence writ­ing. And as some­one who, because of neu­ro­log­i­cal dam­age, deals with frag­men­ta­tion and inco­her­ence, I feel even more com­mit­ted to get­ting at "the real."
Blip: Do you use dream mate­r­i­al in writ­ing poet­ry?
Skloot: Very, very rarely. There's a poem of mine called "Soft Flame" which is about a dream, and scat­tered through­out my work in both poet­ry and prose there might be a few images or scenes from dreams–in which case, they're almost always iden­ti­fied as such.
Blip: You told me in one of our ear­li­er notes hat you and your wife take long walks togeth­er in the day. How does walk­ing, exer­cis­ing, mov­ing effect your cognitive/mental pro­duc­tiv­i­ty? On days when you are not as active, do you feel a dif­fer­ence in clar­i­ty?
Skloot: Walking does affect the over­all feel­ing of well-being, of course, which is essen­tial to anyone's work I think. But I've had to learn how to do my writ­ing through peri­ods, some­times quite extend­ed, when exer­cise was impos­si­ble. The nat­ur­al set­ting in which we walk–the woods around our house for so many years until we moved to our present loca­tion, now by the river–is always evoca­tive and the source of much of my work.
Blip: What are you work­ing on now? What are your near term goals with your writ­ing?
Skloot: My next book will be a col­lec­tion of poems, Close Reading, to be pub­lished in 2013 by Tupelo Press. It was accept­ed two years ago, so by the time it appears it will have wait­ed three years. Meanwhile, I'm near­ing the con­clu­sion of a new book of poems, Lost in the Memory Palace. Most of its poems have come steadi­ly over the last ten or twelve months, a more sus­tained run than I've had in decades. Now that I'm about to turn 65, I hope to find a way for this new book to see pub­li­ca­tion more quick­ly. I'm also six years and 2/3 of the way through a new mem­oir built from inter­con­nect­ed essays. It's called Revertigo: An Off-Kilter Memoir and I hope to fin­ish in the next year or two.
Blip: Who have you read late­ly that you would like to intro­duce peo­ple to? Which writ­ers deserve atten­tion that you may like to bring atten­tion to?
Skloot: Top of the list is my daugh­ter Rebecca Skloot and her prize-win­ning book, The Immortal Life of Henrietta Lacks, which has been on the NY Times non­fic­tion best­seller list FORTWOYEARS now. It's a bril­liant, impor­tant, and fas­ci­nat­ing book.
For the last two years, I was a judge for the Los Angeles Times Book Prizes in fic­tion and first fic­tion, so my read­ing was skewed toward more con­tem­po­rary fic­tion than I would nor­mal­ly have read. Among the excel­lent first fic­tion I feel most strong­ly about: The House of Tomorrow (Peter Bognanni), Portraits of a Few of the People I've Made Cry (Christine Sneed), and Leaving the Atocha Station (Ben Lerner).